With COP Email Marketing software you can easily create, send and track your email newsletter and campaigns. Don't have personnel to create and maintain campaings? No problem, COP is fully staffed to create and maintain all of your email marketing campaigns. Click here to contact us.
What's New in V10 – Learn more
COP email marketing software has an advanced feature set that lets you deliver high-performance email campaigns – and continually improve them. It is built upon the EmailLabs platform, an award-winning, market-leading solution with hundreds of satisfied customers.
Create messages easily. Import your own email templates, cut and paste HTML code or create messages from scratch using our built-in HTML editor. Not sure what makes a great subject line or how to use images? On-screen contextual best practices give you helpful advice as you're working.
Manage email lists. Easily upload your existing opt-in lists, then keep them clean with automatic unsubscribes and database syncing.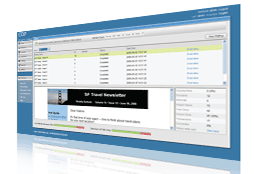 Send email messages. Deliver messages immediately, schedule them up to a year in advance or automatically trigger them based on the dates or customer activity you specify.
Improve email delivery. Our dedicated ISP Relations team works closely with ISPs and email trade groups, and we promptly process spam-complaint data from ISP feedback loops. Our COP deliverability analytics tool also lets you check for and correct potential delivery issues before you hit "Send."
View real-time reports. Make sense of email-campaign performance by monitoring your opens, click-throughs, bounces, unsubscribes and more.
Segment and target. You can segment your lists based on up to 250 demographics, then send personalized, tailored messages to each particular target group.
Integrate with Salesforce and other third-party tools. Our App Exchange Certified tool offers a deep level of integration, so you can create, send and manage email campaigns directly from Salesforce. Our sophisticated API also makes it easy to sync your email lists with your customer database and other tools.
Seamless Integration
The COP integrated marketing platform goes far beyond the limited capabilities of standalone email software:
Test email deliverability. Our integrated deliverability analytics tool automatically populates your email test lists with ISP seed addresses. Checking for rendering and deliverability issues has never been easier.
See what recipients are doing on your Web site. When email recipients click through, you can automatically track their behavior once they arrive at your site – thanks to our built-in Web analytics integration. You can create new visitor segments based on criteria you select – like purchase behavior or time spent on site – and then send targeted messages to these specific groups.
Design email creative. COP offers simplified Web content management that makes it easy to build new HTML messages – even if you're not a graphic designer or webmaster.
In today's fast-paced, digital world, deliverability is the keystone of your email marketing program. But all your time spent creating targeted, timely email campaigns is wasted if your messages don't get past ISP filters or don't render correctly if they do arrive in the inbox. You need to unlock the secrets of deliverability and COP EmailAdvisor solution has the answers you need.
From our Inbox Snapshot tool that shows how your message will render in over 40 different email clients, to our Content Analyzer and Blacklist Monitor tools, EmailAdvisor will prevent the "abduction" of your emails and ensure they arrive in your customers' inboxes.