Mailing and Fulfillment
COP can handle your direct mail project from design to distribution. Whether you need to mail a postcard, an invitation, account statements or a product catalog, we are experienced with postal regulations and discount opportunities, so we can find the most cost-effective solution for your mailing project. We have over forty-five years of experience in the direct mail industry, so we can guide you through the process to ensure you see the lowest cost and the largest possible return on investment.
COP delivers the sophisticated personalization and mailing capabilities you need, plus the attention to detail and experienced responsiveness you want today.
Database Management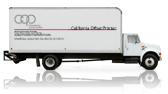 List rental, conversion, and formatting
Zip Code correction/Zip+4 assignment
CASS Certification
Variable file converting
Name and address standardization
Carrier route assignment
List rental
File suppression
Drop shipping to BMC, SCF, and DDU
Postnet and Intelligent Mail Barcode
Gender coding
Palletization
Special Selects
Database maintenance
Custom data analysis
Customized programming and report preparation
Laser printing
Letter-writer/Personalization Applications
Merge/purge
Postal presorting/processing (all classes)
ZIP + 4 assignment (DPBC)
Mailing
Mail preparation (folding, inserting, tabbing)
Extensive inkjet capabilities
Personalized laser printed letters and pre-converted envelope stock
Two-sided addressing and last-minute printing of high-resolution logos or personal messages
Folding – Sheet sizes to 11″ x 17″ – tri-fold, half fold, Z fold, double parallel fold
Comprehensive binding and finishing services—machine inserting, addressing, labeling, live stamping and shrink wrapping
Custom hand assembly
Printing standard Cheshire labels
Adhering labels/tabbing and wafer sealing
Metering postage or adhering of paper stamps
In-house post office to speed mail acceptance and delivery
Label creation and application
Stamping
Response tracking and analysis
Metering