Heatset Web Printing | California Offset Printers
We specialize in helping publishers, catalog and commercial clients whose needs range from 10,000 to 250,000 standard custom products and formats. Our all-inclusive manufacturing facility and newest technology combines "big printer" operations, with personalized, small printer flexibility and hands-on service.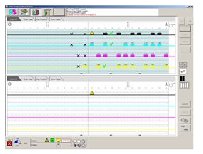 Our heatset web presses feature the new GMI Color Quick "closed-loop" color system. With this CIP-3 technology, the digital prepress files are used to preset the ink fountains. This technology enables us to provide vibrant and consistent color regardless of your publication's run length.
More info:
Closed loop color control requires accurate information for each color at every ink key of the press, and ColorQuick delivers that.
ColorQuick's on-web spectrophotometer measurement guarantees the most accurate ink density data for closed loop control, as well as Lab* color verification, true Status T or Status E density values, availability of colorimetric reports, and spectral and density data that conforms to graphics arts standards for SPC reporting.
Heatset Web Presses Equipment
5-unit 22 3/4" x 33" commercial heatset web presses with 2 roll stands, a combination folder and sheeter, all utilizing the latest computer-to-plate closed loop technology.
8-unit 22 3/4" x 36" heatset web press with 2 roll stands with a combination folder and a double former folder.
Bindery and Stiching
Our saddle-stitch binding operations feature in-line mailing, which provides high-speed addressing of your publication or catalog, eliminating the 2 or 3 days required by trade mailing houses. Perfect binding, polybagging, CD & DVD inserting are also available. We can even help maximize your postal dollars by combining multiple components with our poly bag line.
Bindery Equipment
6-pocket Sheridan 705A stitcher/trimmer with blow in card feeder and inline inkjet and Cheshire paper labeling.
9-pocket Harris 850 stitcher/trimmer counter stacker, card feeder, and blow-in card attachment.
Polywrap
Sitma C80 polywrapping system has two auto-feed stations and in-line inkjet and Cheshire paper labeling. Gives you the ability to combine multiple publications and even CD or other products.
Visit www.copprints.com for more information